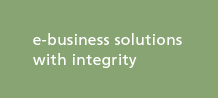 The open architecture of Softshare Delta lets you create integrated solutions that fit the requirements of your business. Whether you want to integrate EDI data with an internal accounting database, convert accounts receivable files into XML invoices, load your inventory into an online Web catalog, or handle Web service requests, Delta has all the tools you need to seamlessly integrate your business operations.

Delta is a universal translator. Delta not only supports EDI standards, but a variety of other data formats as well, including data (flat) files, databases (via OLE DB and ODBC), and XML. Delta also supports mapping to free-form text document formats, including HTML, to aid in Web integration. When modeling and mapping, Delta considers each data type individually, leveraging the unique schema and power of each format.

No application should be an islandówith Delta, you can integrate your disparate data sources into one powerful electronic commerce system.


---
Key Features:
| | |
| --- | --- |
| • | Any to any data type and format mapping |
| • | EDI (ANSI X.12, UN/EDIFACT and Proprietary format) support |
| • | OLE DB and ODBC support for universal database access |
| • | Flat file, text file and HTML support |
| • | XML support (including Microsoft .NET and BizTalk) |
| • | SAP 'IDocs', ebXML, ACORD and HIPAA Compliance |
| • | Trading partner management |
| • | Automated addressing of generated EDI and XML documents |
| • | Conditions, variables, constants and functions support in map rules |
| • | Easy Drag-and-Drop mapping. Built in formula expression builder. |
| • | Includes Multi-Threaded processing and Map Chaining Capability |