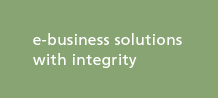 Since 1984, Softshare has specialized in finding, filtering, and distributing bid opportunities. Softshare's significant government background lets us assist our clients not only with the technology of government EDI, but also with the intricacies of doing business with the government.

Finding Bid Opportunities
Softshare's search engine processes thousands of bid opportunities daily. We make these bids available to you in one of two ways. You can browse them for FREE at Softshare iSearch, Softshare's comprehensive bid opportunity database or, you can take advantage of Softshare Alert, Softshare's sophisticated filtering service that will find and deliver relevant bid opportunities right to you.

EDI Contracting
If you would like to quote on EDI bid opportunities or need to comply with a governent's agency's wish to conduct business over EDI, Softshare offers two solutions. Our Web-based solution, Softshare Athena, is for contractors who only have the occasional need to send an EDI-compliant document to a federal trading partner. Our Windows-based solution, Softshare Vista, is a more robust application that supports an unlimited number of EDI transactions.